Dear reader/editor, this Fandom is still very new and we could use your help!
Please take a look at this list of articles we need. You can register or anonymously add any information you have on these topics.
Welcome to the Crap Patrol 2 Wiki! Here you can find information about the StarCraft 2 arcade map "Crap Patrol 2" to help you progress as far as possible.
Crap Patrol 2 is being developed by BlacKcuD. You can join the official Crap Patrol 2 discord here .
If you would like to submit a replay, check out Thenarden's online leaderboards. If you have questions about this wiki, you can ask the admin.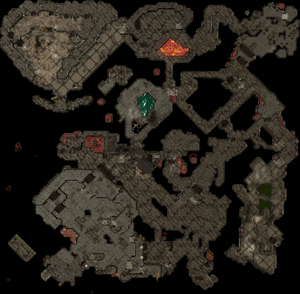 $

The CP2 Map. Locations on this map can be hovered over, and will be referenced on other parts of the wiki.
Meta Guide
Edit
The mechanics of a particular difficulty will remain constant, no matter what hero is picked.
Therefore, it is recommended to read, first and foremost:
The Hellwalker and Season 2 Nemesis pages under 'Difficulties' section, to understand the dynamics of those difficulties
The Traps page, under 'Game Mechanics' section
GhostDragon's Guide, which applies comprehensively to Oldschool and Hellwalker
Difficulties
Edit
There are currently five difficulties.
Hard (For Beginners)
Inferno (Third Hardest Mode)
Old School (Second Hardest Mode)
Hellwalker (Hardest)
Season 2 Nemesis (Variable/Hardest)



Game Mechanics
Edit
Season 2 Nemesis is now live (version 14.2), introduced in version 14.
Community content is available under
CC-BY-SA
unless otherwise noted.