Dear reader/editor, this Fandom is still very new and we could use your help!
Please take a look at this list of articles we need. You can register or anonymously add any information you have on these topics.
Welcome to the Crap Patrol 2 Wiki! Here you can find information about the StarCraft 2 arcade map "Crap Patrol 2" to help you progress as far as possible.
Crap Patrol 2 is being developed by BlacKcuD. You can join the developer-owned Crap Patrol discord here. Useful for game design feedback and bug reports.
You can join the community-owned strategy-oriented Crap Patrol discord https://discord.gg/WrBhACG . Useful for strategy talk, group formations with top players, and general assistance and chat.
If you would like to submit a replay, check out Thenarden's online leaderboards. If you have questions about this wiki, you can ask the admin.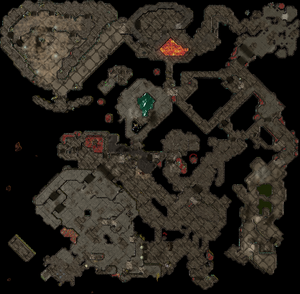 $

The CP2 Map. Locations on this map can be hovered over, and will be referenced on other parts of the wiki.
The mechanics of a particular difficulty will remain constant, no matter what hero is picked.
Therefore, it is recommended to read, first and foremost:
There are currently five difficulties.
2021 Jauary 31 - 14.14 Season 2 Nemesis, Episode 9: Endgame is now available!
This is the Hybrid General's last ditch effort and he is throwing everything at you.

2020 October 06 - Season 2 Nemesis, Episode 8: Hostile Territory is now available!
"In order to comply with Blizzard's naming policy, from now on we are uploading the map under the name "CP2 Official" on all realms. Your bank files and records will not be affected by this change. Please spread the word so everybody can find the map."
Community content is available under
CC-BY-SA
unless otherwise noted.