Dear reader/writer, this wikia is still very new and we can use your help!
Please take a look at this list of articles we need. You can register or anonymously add any information you have on these topics.
Welcome to the Crap Patrol 2 Wiki! Here, you can find information about the StarCraft 2 Arcade map "Crap Patrol 2" to help you progress as far as possible.
The section about 'Hero Perks' and 'Hero Mastery Orders' are about learning the hero.
If you want more details about each perk, I suggest you read the 'Perk' section.
The 'Hellwalker', 'Boss Triggers' and 'Non-Boss Triggers' sections are about learning the map. 
Crap Patrol 2 is developed by BlacKcuD. 
If you would like to submit a replay, check out Thenarden's online leaderboards.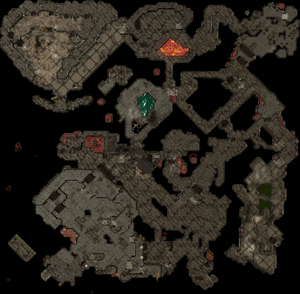 $

The CP2 Map. Locations on this map can be hovered over, and will be referenced on other parts of the wiki.
Read the Introduction first.
The hero guides apply to Oldschool and Hellwalker multiplayer (non-solo) games and apply to non-speedruns:
Released:

Kindly note that the hero guides in this section are outdated.

 
Difficulties
Edit
There are currently four difficulties.
Hard (For Beginners)
Inferno (Third Hardest Mode)
Old School (Second Hardest Mode)
Hellwalker (Hardest)



Game Mechanics
Edit
Guides (Outdated)
Edit
Community content is available under
CC-BY-SA
unless otherwise noted.